Since I began blogging this year, I have often said that quilters are among the most generous people in the world. Between give-aways, charity projects and programs, and just the simple act of putting time and effort into making something beautiful to bring joy to another person--the quilting community is full of random acts of kindness.
This is why I'm sharing this with you.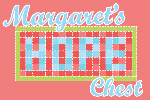 Hope built on tragedy. I donate quilts to several organizations in my neck of the woods, but this is a wonderful opportunity to help in another community. It doesn't even require you make anything. Donate fabric, thread, batting.
In the spirit of giving (for quilters, Christmas never ends, but lasts all year), once you've stopped over there, leave me a comment--blog about it for a second chance to enter. I might just have a little something to share with my readers--I'll pick a winner this weekend. (PS--please make sure you have your email contact available--I hate to have to pass up someone simply because I can't get in touch with them).
ETA: I'm extending this to give all the bloggers currently in Houston some time to catch up. I'll take entries til midnight EST Wednesday, 10/14.
And the little something? It's a Tiny Tidings jelly roll--I know I'm starting to think Xmas--thought you might be, too... :)